30% OFF SITEWIDE- BLACK FRIDAY SALE
LOVE IT OR IT'S FREE GUARANTEE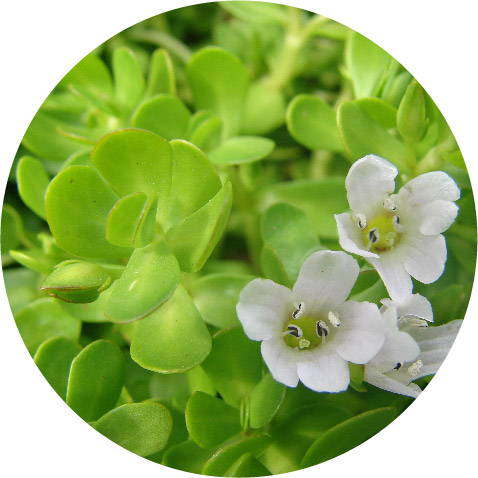 Our highlight ingredient in this formula is our patented de-bittered bacopa. This formula contains 300mg of bacopa , which has been proven to help with memory, focus, and mood.
enhances memory | improves focus & concentration | mood enhancer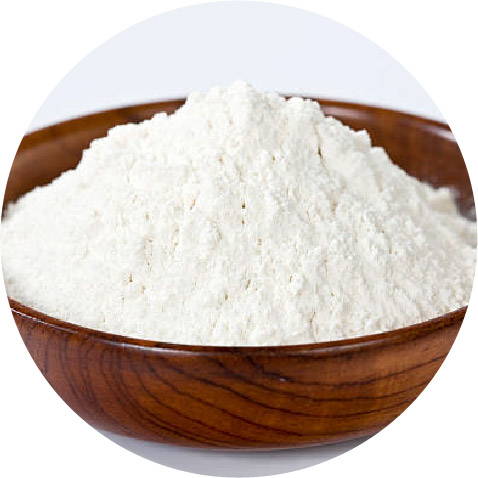 We included the amino acids: L-tyrosine, Taurine, Phenylalanine, Acetyl L-Carnitine, and L-Theanine in this formula. These amino acids help with: producing essential brain chemicals, stimulate new brain cell formation, support thinking skills, and support mood.
supports overall brain health | thinking skills & memory | supports mood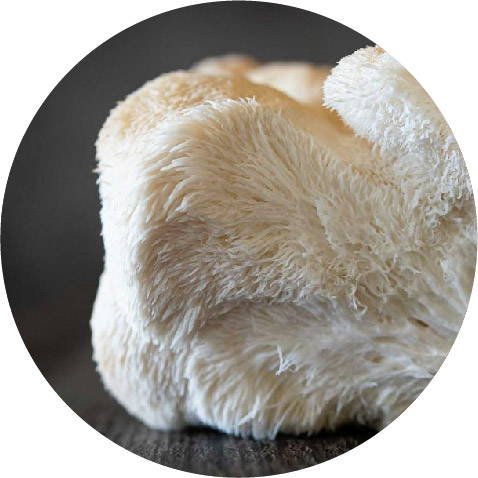 Lion's Mane is a mushroom that supports laser sharp focus and helps keep you calm.
enhances memory | improves focus & concentration | stimulates neuron growth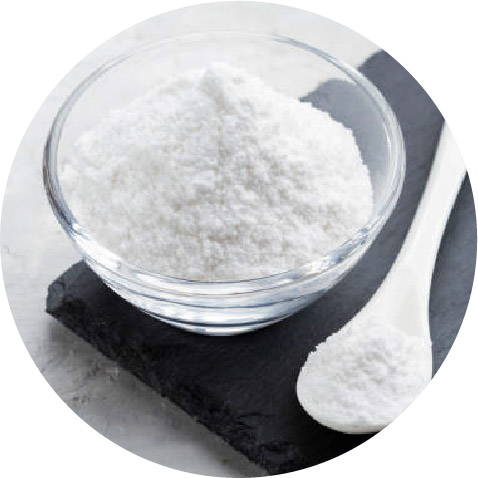 Powerful brain nutrients such as: Phosphatidylserine, Alpha GPC, and GABA were included in this formula to boost brain power, increase the release of the neurotransmitter acetylcholine, and control nerve cell hyperactivity.
boost brain power | supports learning and memory | promotes a positive mood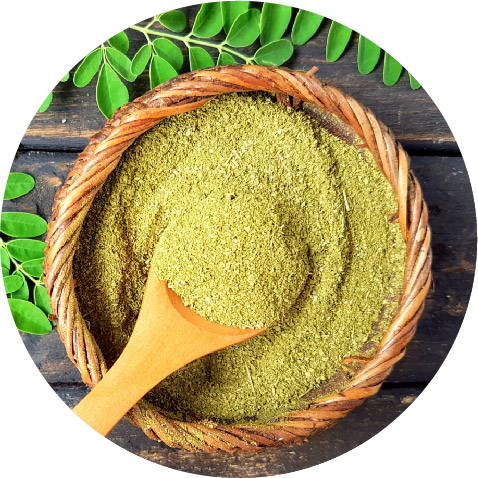 Vitamins are essential for healthy brain function, so we added some of the most important ones: Vitamins B5, B6, B12, and D. These all aid in promoting superior brain function.
assist in development in neurotransmitters | support health brain function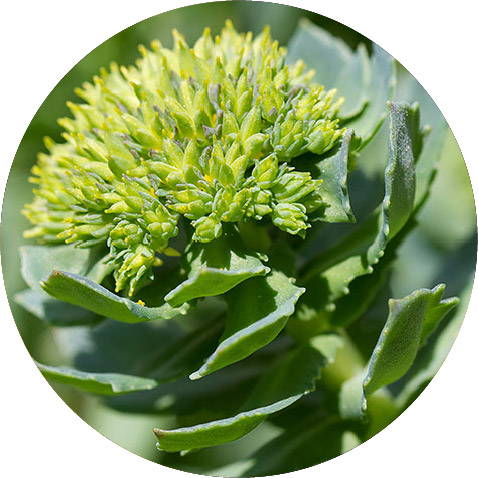 Rhodiola rosea is an adaptogenic nootropic that may improve cognitive function, enhance memory and learning, protect the brain, reduce stress, and fight fatigue

protect brain | increase body's resistance to stress | improve cognitive function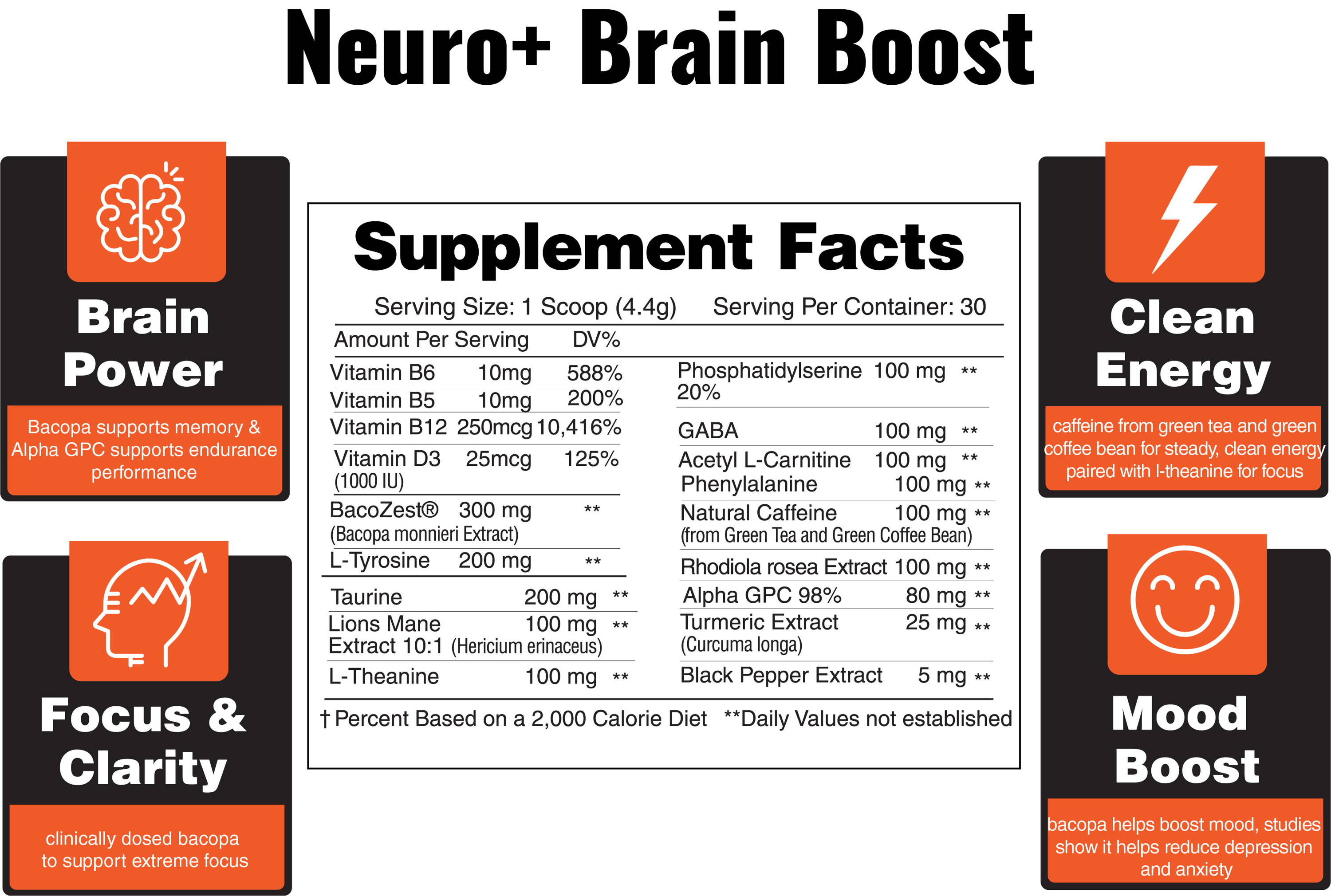 Most of our brains today are overstimulated, nutrient deficient, and sleep deprived! The Result? Lack of clarity, focus, and memory retention. That's why we created Neuro Boost, a nootropic supplement formulated with powerful brain nutrients, superfoods, key vitamins, and clean energy so you can perform at YOUR peak EVERYDAY! Neuro Boost includes clinically tested ingredients to support memory, focus, clarity, mood, and energy levels! Take charge of your short term and long-term brain health.

You've got questions, We've got answers
How long does it take to feel a difference?
Within 15 minutes you will feel an energy boost and increase in focus.
No! We formulated Neuro+ Brain Boost to give clean, steady energy with no crash.
Will the energy boost and focus last?
Yes!! You will feel an increase in energy and focus for hours after taking Neuro+ brain boost
Are there any adverse reactions?
Nope! Neuro+ Brain boost will deliver instant benefits as well as long term brain health benefits!
We do have a 100% natural formula sweetened with stevia available. Just change your flavor option to sweetened with stevia!
If you do not like Neuro+ Brain Boost we will refund your order 100%